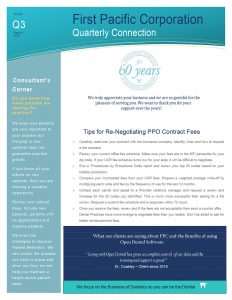 Download a pdf of the newsletter here.
Do you know how many patients are leaving the practice?
We know new patients are very important to your practice but bringing in new patients does not guarantee practice growth.
If you focus all your efforts on new patients, then you are missing a valuable opportunity. Review your patient base. Include new patients, patients with no appointment and inactive patients. We know the strategies to improve Patient Retention. We can review the process you have in place and show you how we can help you maintain a health active patient base.
---
Tips for Re-Negotiating PPO Contract Fees
• Carefully read over your contract with the insurance company. Identify when and how to request a fee increase.
• Review your current office fee schedule. Make sure your fees are in the 80th percentile for your zip code. If your UCR fee schedule is too low for your area, it will be difficult to negotiate.
• Run a "Procedures by Procedures Code report and review your top 20 codes based on your billable production.
• Compare your Contracted fees from your UCR fees. Prepare a weighted average write-off by multiplying each code and fee by the frequency of use for the last 12 months.
• Contact each carrier and speak to a Provider relations manager and request a review and increase for the 20 codes you identified. This is much more successful than asking for a full review. Request a custom fee schedule and a response within 72 hours.
• Once you receive the fees, review and if the fees are not acceptable then send a counter offer. Dental Practices have more leverge to negotiate fees than you realize. Don't be afraid to ask for better reimbursement fees.
Dental Provider Credentialing
The benefit for becoming an in-network provider increases the opportunity to gain new patients. FPC offers a Credentialing Management Solution that streamlines the process of getting you enrolled in an insurance company's preferred provider network. We complete the credentialing process by verifying all the provider's documents to ensure that they are valid and current. Let us help you to be sure your applications are accurate and completed in a timely manner so you can focus on patient care.
---
End of Year Dental benefits. Use them or Lose them!
It's that time of the year to remind your patients to use their dental benefits. Most insurance companies have a benefit deadline of December 31. Start the conversation today about dental treatment needed before the end of the year.
• Print a report for unscheduled treatment and check patient dental benefits.
• Start a Back to School Check up campaign.
• Contact your patients and let them know that unused benefits don't roll over and FSA accounts expire too!
---
FPC TeamMember Spot Light
Melissa is your Patient Services Representative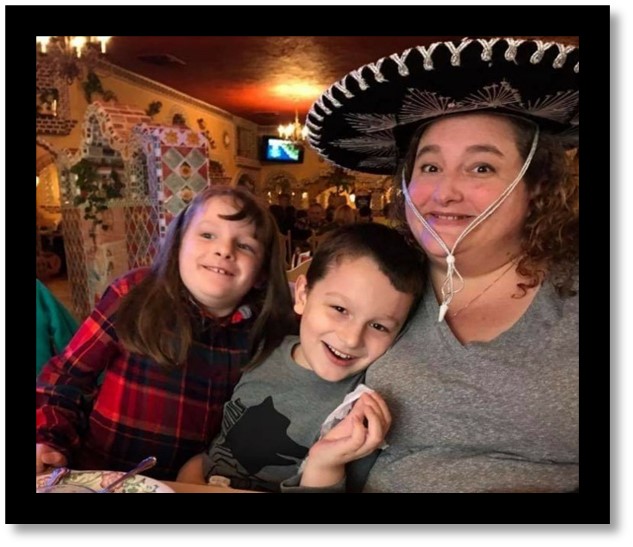 I enjoy helping our clients and their patients with any questions they may have and hopefully being a bright spot in their day. I enjoy digging into the root cause of a problem and being able to get the issue corrected.
I'm a single mom of two wonderful kids, James (12) Katherine (9) and we have one weird cat, Smokey.
My son was diagnosed with ASD when he was 3 and he's gone from a non-verbal little man who spent most
of his time disconnected from the world to one of the friendliest and most helpful kids you will ever meet who love Pokémon, Star Wars and anything to do with science.
My daughter is an amazing artist and animal lover who has a great big heart and is the girliest tomboy you'll ever meet. We are a nerdy family, we build Legos, play video games, read and have random dance parties when we need to get the crazies out.
We moved to Salem from Newport 5 years ago and right now we are missing the cool breezes of the coast. We love going on trips to the zoo, aquarium, OMSI or just a drive to a new place to see the sights.