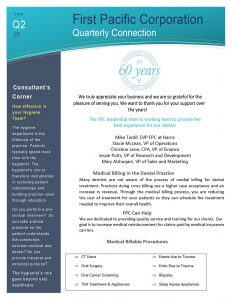 Download a PDF of the newsletter here.
How effective is your Hygiene Team?
The hygiene department is the lifeblood of the practice. Patients typically spend more time with the hygienist. The hygienist's role is therefore instrumental in nurturing patient relationships and building practice value through education.
Do you perform a pre-clinical interview? Do you take a blood pressure so the patient understands the connection between medical and dental? Do you provide intraoral and extraoral pictures?
The hygienist's role goes beyond oral healthcare.
Medical Billing in the Dental Practice
Many dentists are not aware of the process of medical billing for dental treatment. Practices doing cross billing see a higher case acceptance and an increase in revenue. Through the medical billing process, you are reducing the cost of treatment for your patients so they can schedule the treatment needed to improve their overall health.
FPC Can Help
We are dedicated to providing quality service and training for our clients. Our goal is to increase medical reimbursement for claims paid by medical insurance carriers.
---
Celebrating 100 clients using RCM!
            FPC manages your billing and collection activities, so your staff can focus on the most critical needs of your practice and your patients. We value our clients and strive to provide excellent service!
---
VIVOS
Take A Starring Role With Sleep And Airway
It's time for mild and moderate obstructive sleep apnea to take a starring role in overall health.
Did you know that one in 15 adults in the United States has obstructive sleep apnea? Out of those approximately 18 million adults, around 80% of cases remain undiagnosed. During this three-day event, we'll discuss the impact OSA has on chronic conditions like heart disease, chronic fatigue, dementia and other serious illnesses and how innovations supporting the science of craniofacial sleep medicine are transforming the future of dentistry.
Earn up to 14.5 CE credits during this exclusive, doctors-only three-day event! June 10-12 Grapevine, TX
To register go to starringrole 2021.com
FPC Team Member Spot Light: Abby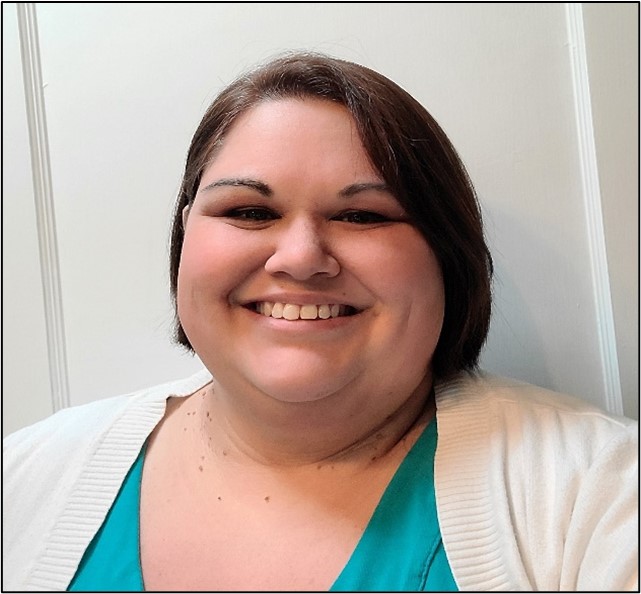 Abby has been dedicated to supporting FPC clients for 14 years. In that time Abby has worked as a Client Manager, Marketing Specialist and Onboarding Project Coordinator.
I love my job. I enjoy being organized, creative, and being challenged. I have an amazing 17-year-old son, Bradley. His activities keep me quite busy after work hours. He plays the piano and the violin, so there are weekly lessons and additional practices I get to drive him to, he's currently taking Driver's Ed so hopefully by the end of June he'll be driving himself to all these places. I also volunteer as the Sprague High School Orchestra Boosters President and my son and I both volunteer and are very active in our Church. In my free time, I enjoy spending time with family & friends, binge-watching my favorite tv shows, and reading.
My son and I have a slight obsession with all things related to Harry Potter. One of my favorite quotes to live by is "Happiness can be found, even in the darkest of times, if only one remembers to turn on the light." – Albus Dumbledore.